This morning we dropped daddy off at the airport and he took with him his camera! Luckily he will be back Friday and I will have birthday party pictures posted hopefully this weekend.
Alison reading a pop up book featuring cute animals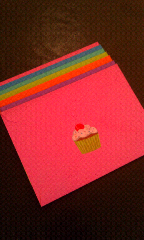 A rainbow of Thank you cards!
They looked so pretty all together I had to take a picture!
We went out to the mailbox and it was perfect timing as our mailman was just pulling up.
We handed him our little rainbow and he handed us our mail.
Alison thought he was pretty neat and even put her hand out and he shook it.
Big adventure for a little girl!