I finished 2 projects today! I am in "Alison's Birthday" and "Christmas" mode
so I made Ali a little doll for her stocking.
Ta da! Completely hand sewn, I used some pretty fabric, wire wrapped body, and embroidery floss for the hair. Of course in Waldorf tradition the face is left simple (in this case blank) for the child's imagination.
Her dress has two layers and is so poofy it can hold her up! I also made a little pair of bloomers to go under the dress, we can't have our dolls walking around without underpants!
If you are interested in making a wire wrap doll
Felt Wee Folk
is a great instructional book and this is a
great tutorial
. Salley Mavor makes some beautiful handmade things. I love the Felt Wee Folk book and Alison loves her children's book of nursery rhymes
"Pocketful of Posies".
Both are stunningly beautiful.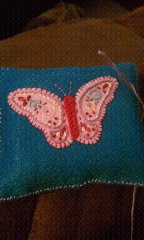 My second project!
I got tired of having to search my shirt and pants trying to remember where I stuck my needle so I whipped up a little felt pin cushion. I got the butterfly shape out of "Wee Felt Folk" but I added the body and free handed the embroidery.
Alison is still teething but it seemed a little better today. Hopefully she will get a break from it soon.
Hope your Sunday was wonderful!