Oh breakfast, most important meal of the day!
Alison, and the rest of us for that matter, really likes bacon. Ham and bacon are about the only meat she wants to eat. She gets oatmeal every morning with flax seed mixed in and a little syrup over the top. Occasionally we have other things in addition like fruit, yogurt and toast but always oatmeal. Breakfast is the most important meal of the day around here because Alison eats more at breakfast than at any other meal.
Tomorrow along with Veterans Day is Martinmas or St. Martin's Day.
It's a holiday a lot of Waldorf schools celebrate and so I thought we would celebrate it as a family since our school isn't doing anything. Traditionally you do a lantern walk with a paper lantern. I made this lantern for Alison using instructions from the book "
All Year Round
"
Doesn't it look pretty with the sunlight filtering through?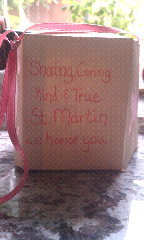 One side I didn't cut out a window to glue tissue over but wrote a cute little verse I came across, I wish I remmebered where:
Sharing, Caring,
Kind and True
St. Martin We Honor You