Today Alison and I went to our parent child class. I returned "
Seven Times the Sun"
to the parent lending library in the Morning Glory classroom.The book helps you enrich your daily rhythm with songs and little suggestions on family activities.
I started working on a little St. Lucia doll for Alison yesterday.
It's about 90% complete. This is the 4th wire wrap doll I've made and I think I'm getting a little better at it if not any faster lol.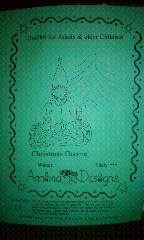 Alison is normally ready for a nap after our class but today she was wide awake!
I took advantage of her happiness and visited the school store. I got Alison a little
gnome
(a red one) and I got a Christmas gnome project kit! If this one turns out well I might get the Holy Family kit. This kit was $5 and I believe the Holy Family kit is $8. I really love our school store. They always have the best prices. (Sorry I couldn't find a link to Annima Designs, if you do please let me know!)
This picture is actually from yesterday.
Doing laundry is always interesting with Alison around.
Here she is trying on daddy's socks.