Today I did something I have never done before! I took Alison out to a restaurant just the two of us!
Chris and I ordered some football shirts for the 8th grade fundraiser at the Waldorf School of San Diego where Alison and I attend a parent child class and I had to drop off a check. Its a little bit of a drive to just drop off a check so I thought it would be fun to mosey around Old Town for awhile.
Old Town is one of my favorite places in San Diego to just walk around. There are a lot of free museums, a lot of old buildings and shops. A lot of the shops sell hand crafted items and art. There is a Mexican flare to old town making it a wonderful mix of early American and Mexican.
Alison and I did a lot of browsing and even bought a couple things for her Birthday/Christmas. I've mentioned before that finding Waldorf friendly toys is a little challenging (
click here to find out what a "Waldorf" toy is
) in our world of mass produced electronic toy mega stores finding a natural toy is like finding a $20 bill in the pocket of an old coat, an unexpected surprise.
There is a chain toy store in Old Town and we popped in; Alison, bless her heart, hardly looked twice at the toys but saw a display of Little Golden Books and wanted to look at that. We ended up picking out "
The Jolly Barnyard
" Which she will 'officially' get on her birthday...even though she has already browsed through it, lol. I am going to miss these days where I can buy her presents in front of her. They also had a little natural wood truck! You can see it sitting next to her in the pictures below. While we were eating she ran the car across the table going "vroom vroom, beep beep!"(Grandpa Gary must be so proud!)
Fascinated by an umbrella.
Hanging out on her Mommy Daughter date.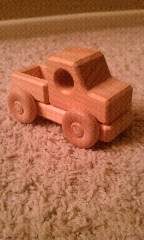 A close up of the little truck before it goes into the closet to await Christmas
where it will be stuffed in a stocking.
We already gave her some of her birthday presents, 3 Ostheimer farm animals (a horse, a rooster and a pig). We are in farm love around here. We would really like for her to have a barn that's natural wood and I have been searching the internet and have been checking Craigslist and eBay (no luck with those two). I have found some on the internet though!
Here
and
Here
.
One day I would love for Alison's play space to look something like
this
. It looks so cozy.
It will be nice when Boompa and Baba move out to their new place and retired Boompa will have time to make Alison some fun toys to play with. Handmade toys are the best especially when they are made by someone who loves you!
"The clock is running. Make the most of today. Time waits for no man. Yesterday is history. Tomorrow is a mystery. Today is a gift. That's why it is called the present."