We went to toys r us to look at tricycles, I didn't bring my camera but I still took some cute pics with my phone!
Near the bikes were the power wheels, Alison found "Boompa's Tractor!"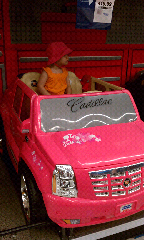 Her favorite car was the big pink Cadillac.
She thought they were pretty neat and she looked pretty cute trying them out.